A TMA (Truck Mounted Attenuator) Truck's main purpose is to protect workers in the construction zone from drivers that are drinking, texting, or have fallen asleep (to name a few). This amazing truck, also known as a "Crash Truck", saves lives every day! Royal Truck & Equipment has decided to take this logic and extend it outside the work zone. We are painting TMA Trucks PINK through October to help raise awareness, fund research, and fight for a cure for breast cancer!
A work zone accident can happen to anyone. Tragedy is not biased or prejudiced, and neither is breast cancer. Whether you're protecting your workers in a construction zone, or protecting your loved ones who are fighting against breast cancer…this pink Crash Truck is now helping both causes!
In order to save lives in your construction zone, and save lives during a breast cancer battle, there are best practices that everyone should follow. Here's to TMAs and mammograms!
TMA Truck Best Practices:
Make Sure You Have a Quality Attenuator
The utilization of a TMA truck remains the most important best practice in the industry. The design characteristics make all the difference in turning a shadow vehicle into a life-saving device. For starters, you've got to have a quality attenuator.  The Scorpion TMA is the best on the market because it's made from long-lasting, quality materials and its design is truly innovative.  It offers full-width impact protection along the entire length of the unit. Other attenuator brands offer little or no side angle impact protection. Additionally the side rails of the Scorpion unit were redesigned to redirect errant vehicles away from the coffin corners of the truck, which are the rear corners of the truck bed.
Make Sure Your Crash Truck is Built on Air Brakes
Don't cut corners to save a little cash up front. Your TMA truck must have air brakes! Hydraulic brakes are an inexpensive option for lighter vehicles, but not for your 20,000 lb Hino. And here's why; in the event of a g-force impact, hydraulic brakes can break apart, projecting your crash truck into your work zone. What a devastating outcome for a device initially in place to protect your crew. Air brakes are the better choice because instead of breaking apart during impact, air brakes stay in place and stop the vehicle.
Make Sure Your TMA Truck is Equipped With a Backup Camera System
Lastly, your TMA Truck needs a backup camera system. One of the largest numbers of construction zone fatalities is caused by backovers. This tragedy can easily be prevented by installing a backup camera system in your TMA truck. Not only can you see a person or obstacle while in reverse, but drivers can keep an eye on flowing traffic during stationary or moving operations. This gives your workers a precious few moments to react if they see an oncoming collision.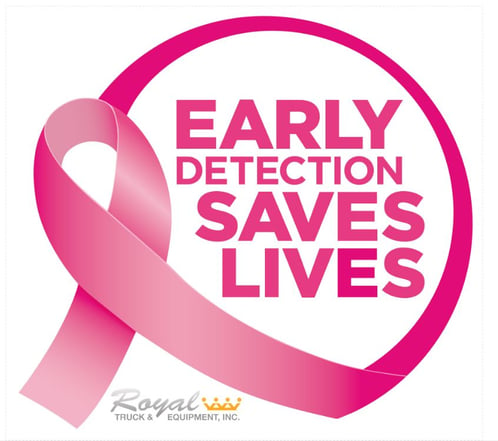 Best Practices to Fight Breast Cancer:
Just as there are TMA best practices to prevent work zone fatalities, there are best practices when it comes to preventing breast cancer, and potentially saving your (or a friend's) life. The goal of raising awareness is to educate people on early detection, prevention and raise money for research. Early detection provides the greatest possibility for successful treatment. Here's what you need to know!
Breast Exams
Breast exams are most important for early detection. Self exams should be done monthly. They're quick and easy to do at home. Clinical exams should be done regularly. Women 40 years and older should have mammograms every 1 or 2 years. Women who are younger than 40 years old and have risk factors for breast cancer should ask their healthcare professional whether mammograms are advisable and how often to have them.
Educate Yourself
Educate yourself on your family history. About 5% to 10% of breast cancers are thought to be hereditary, caused by abnormal genes passed down from a parent. Women with close relatives who've been diagnosed with breast cancer have a higher risk of developing the disease. If you've had one first-degree female relative (sister, mother, daughter) diagnosed with breast cancer, your risk is doubled.
Support the Cause
Support the cause! There are a couple ways that you can now support the battle against breast cancer:
If you own a construction company that does highway work…you can purchase a Pink TMA Truck! A portion of the proceeds will go to The National Breast Cancer Foundation!
If you like t-shirts…you can purchase a Pink Construction-related shirt. 50% of each shirt's sale will go to The National Breast Cancer Foundation!
You can donate time or resources through the National Breast Cancer Foundation. Raising awareness is the first step to fighting back. The more people know, the better equipped they are to protect themselves. When breast cancer is detected early, and is in the localized stage, the 5-year relative survival rate is 100%. That's incredible!